A subsidiary of Glenn Rieder, Shamrock Metals fabricates a wide range of architectural and ornamental metalwork for indoor and outdoor environments. Our highly experienced craftspeople work in brass, bronze, copper, aluminum, stainless steel and hot rolled carbon steel in a variety of sheet sizes, shapes, and finishes. Our metalwork has graced spaces for virtually every commercial segment including hospitality, gaming, performing arts, wineries, retail and corporate.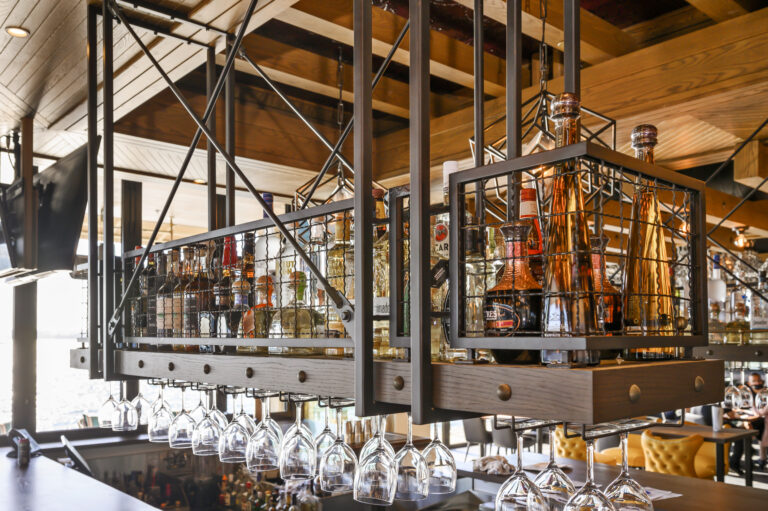 Located in Las Vegas, Nevada, our 20,000-square-foot facility is equipped with state-of-the-art custom tools and equipment including a five-axis water jet, V-groove machine and 200-ton press brake. We can work in thicknesses from .020-inch to 3-inch.
Flo-Mach 200 five Axis – 12" x 72 x 168" Max. We have the capability to cut any material up to 12'' thick but what really gives us the edge to the competition is our ability to cut with our 5th axis. This feature allows us to cut 3-dimensional parts or tapered cuts, such as countersinks for holes, or bevel the edge of material all in one process.
Hydra Power- CNC-4M. 22Ga. Through ½" plate x 14'. The V-groove machine gives us the capability to make custom-sized brake shapes while maintaining the sharp architectural corners both inside and outside of the bends. We can groove up to ½'' thick any material up to 14' long.
With this equipment we are able to apply a brushed finish on 48″ wide sheets in a fraction of the time it would take to do by hand. By having this capability, we are able to finish raw material to order versus waiting several weeks for custom ordered brushed material.
200 ton Piranha Press Brake – 1⁄2" Max. Thickness x 12' Long forming bed.
175 ton Durma with a bending length of 146''. This piece of equipment allows us to make accurate repeatable bends with a very easy set up for the projects that require many different shapes and profiles.  With the easy drawing and tool set up with auto crowning and full CNC multi axis back gauge we have the capability of switching gears fast between projects in order to meet our customer deadlines while maintaining accuracy and tolerances of +or- .005.
Pay Shamrock Metals Invoice Here